Due to the recent Government guidance on COVID-19 virus, Medical Pipeline Services Ltd are putting in place certain measures to prioritise the health and safety of our employees, contractors and clients alike. Their health and wellbeing is paramount.
As we are mainly acting as a subcontractor on many sites across the UK, our employees have been told to firstly follow the on-site precautions and guidelines given by the client/ Principal Contractor. We ask that any changes made by the client are to be briefed to our operatives and on-site Project Manager on a daily basis so we can keep in line with site rules and regulations.
As a business we have in place a contingency plan to ensure continuity of business operations which includes stock and materials availability should this situation deteriorate or develop but we do stress that this may be out of our control further down the line.
We're actively monitoring official guidance from the UK Government and Public Health England and following their advice carefully as the situation advances. The latest official advice can be found by following the link below to the NHS website.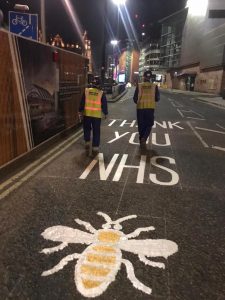 With the above in mind, Medical Pipeline Services Ltd are also doing the following within the offices and every site operation;
Providing extra sanitising products to our employees who have been advised on how and when to use these products whilst on site.
Minimising face to face meetings, restricting/ avoiding all physical contact including hand shaking and enforcing our own guidelines for operatives to follow on and off-site at all times.
Management and client meetings etc will be completed via phone call / Skype, online options or postponed until further notice if not deemed of importance.
We are following all government health guidelines and monitoring our staff to ensure that they are also taking relevant actions to minimise the risk. If any employees are showing any signs of flu like systems they have been advised to notify their next line manager and then to self-isolate, keeping in line with Government guidance.
We are undergoing a regular deep-cleaning rota of all on and off site equipment and company vehicles.
We are liaising closely with all our supply chain to ensure continuity of our services though we cannot guarantee to control these measures. Should our supply chain become affected resulting in a delay or difficulty in our services to you, we will notify you immediately and try to keep business as fluent as possible.
Although we believe the actions we have put in place are appropriate for the current levels of risk, and they are in constant review.
We are avoiding unnecessary UK travel, particularly on public transport.
We are postponing until a more suitable time, all internal gatherings, external gatherings and keeping essential communications going via the use of technology.